Well, three triathlons down, one 5th place and two 2nd place overall finishes. Not really what I had in mind for the beginning of my triathlon season. Some people might see this as pretty good, but I went slower this year in both the 2nd place races than I did at the same races last year (5 and 8 minutes, respectively).
Now, I would have had to be at the top of my game to win both races anyway. I have never beaten Louie, who beat me at the GR Tri. And Brian, who beat me at Tri del Sol, just went 9:04 at Ironman Brasil not too long ago. Both guys are crazy fast! So, when I have an off day (or an off couple of days), that's what happens...I get my butt whooped. After winning the national championship last year, this is not easy to stomach. I've put a lot of pressure on myself to win every race I enter since I won the championship. I feel it's expected of me and when that's not happening, I get pretty down on myself. Not just because I'm not living up to the standards I set for myself, but because I feel like I'm letting my family, friends, coach, and sponsors down...
The picture to the right says a lot. You might not be able to see it, but that is not a happy smile. It's a forced smile that's hiding how disappointed I really am with being 8 minutes slower than I was last year at Tri del Sol.
So, what is going on?? Well, in short, LIFE. I think the biggest thing is that my training and sleeping haven't been very consistent since late May. Why is this, you might ask? Well, I've been traveling a lot. You may remember at the end of May, my dad and I took a trip out west to Mt. Rushmore, Yellowstone, and the Grand Tetons. Then, I had my ACSM conference in Denver, and finally, I went to Boulder for a few days to visit friends and do some crazy triathlete stuff :) All of this was a blast and I wouldn't trade it!
Additionally, in the last few weeks, I've been working on a study with a sports nutrition company called Unit Nutrition. We are studying endurance race car drivers where I go to the track and spend most of the day with the drivers measuring and recording their physiological data. Things like heart rate, core temperature, sweat rate, blood lactate, glucose levels, and a bunch of other variables while they practice and race over the course of two or three days. For the two races I've been to so far, I've spent 48 hours at the track. That's not including the travel to and from Watkins Glen, NY and Clarington, ON (about an hour east of Toronto). I'm in Connecticut this weekend and I'll be going to Virginia, Wisconsin, Georgia, and California later this summer too.
Now, I just want to say that this study is REALLY cool and I'm having a blast with it! But...it is very hard work. And it's really difficult to be fully focused on the drivers for 10+ hours at the track each day and then try to gear up to do a workout. OR, I have to wake up at 4am to get my workout in before going to the track which then means I don't get a lot of sleep.
In addition to all this, I've been hard at work on data collection for my dissertation. I've got two parts to the study, one where triathletes come into the lab and the other where triathletes fill out a short survey online (do it here if you're a triathlete!) While the online part isn't too time-consuming for me, the part where they come into the lab is. Each testing session takes about an hour and a half and each triathlete visits three times. So far, I've had about 25 triathletes in the lab at MSU or down at Eastern Michigan. If you do the math (25 x 1.5 x 3), you'll know that's well over 100 hours spent in the lab (not including the ~2.5-hour round-trip it takes me to get to/from EMU). And you know what? This stuff is FUN! I love testing athletes and putting them through the ringer. As an athlete myself, I love being able to do these tests and getting data that could help make me faster (which is one of the reasons I developed my study in the first place).
The truth is that this takes away from training and rest/recovery time. I'm not complaining, it's just the fact of the matter. We all have things we go through and this needs to get done so I can graduate from MSU and not have to move in with my mom and dad ;) It just means that training and recovery will have to take a back seat and can't be as important/prominent as it was last year.
So along with the lack of consistent training, I've been having inconsistent sleep patterns as well. Back in the beginning of the year (January-May), I was getting 8 hours and 16 minutes of sleep, on average, every night and rolling/stretching for about 20 minutes before bed.
Since July of 2016, the lowest average amount of sleep I had in one week was 7 hours and 9 minutes. In the last month and a half, I've already had three such weeks with a low week average of 6.5 hours. From May 24-July 15 (a time-period of 53 days), I've slept in my own bed just 19 times and averaged just 7.5 hours of sleep each night. You can see in the pictures below where my sleep kind of fell off in late April/early May and just continued down to late June with that low week average of 6.5 hours.
There was a stretch at the end of May/beginning of June where I didn't sleep in my own bed for two weeks. I know when I say "just" 7.5 hours, some of you may be rolling your eyes or saying "I WISH I could get 7.5 hours of sleep!" I know some of my EMJ teammates who have 2-3 kids and a full time job and still crush full distance Ironman races and other crazy endurance events. And my mom wakes up at 4am most days to take the dog for a walk/run before doing a run of her own and then goes to work. That means if she goes to bed at 9pm, she's still only getting 7 hours of sleep, so it's all relative. But for me, 7.5 hours is well below what I had been getting. Since sleep is when a lot of the recovery process occurs, this means I'm not recovering as much as I was at the beginning of the year either...
And I can tell. I often wake up tired and unmotivated to do my workouts wishing I could get just a little extra sleep. I still do them and hit all my goal paces, but the drive just isn't there as much. My EMJ teammate, John Kelly, 15th finisher of the Barkley Marathons (aka he's a bad mama jama!), wrote a great article about motivation and finding the sweet spot between setting a goal that's challenging, but not too challenging. You should totally read it here. Since winning the national championship last year, I've just had trouble finding the motivation that I had last year.
I think things really clicked for me when my mom asked if she could come visit me in East Lansing a few weeks ago. I was trying to figure out when I could meet up with her. Here's how the conversation went:
Mom: I'm teaching kettlebells Monday night, so how about Wednesday? Sometime earlier in the day?
Todd: I've got a few meetings so probably not.
M: Okay, Tuesday?
T: Well, I've got a bike and run I have to do so maybe if it's later in the day...
(then thinking to myself, "Wait, did I really just say that? I 'have' to do the bike and run. Sorry mom, you can't visit because I have to work out. What is wrong with me?? You seriously have your priorities screwed up, Todd.")
Actually, Tuesday will work. Let's do that.
M: Great! I can't wait to see you because you're my favorite son.
(Now, I don't actually remember the conversation verbatim, but I can only assume this is what she said! haha. Sorry, Tyler :D)
For me, winning the national championship is likely the highest level of athletic accomplishment I will ever achieve. Identifying as an athlete, coming to the realization that I've already reached the pinnacle of my athletic career is sobering. There might be something else out there that gets the fire going again, but I've got to figure out what that is. I've already run the Boston Marathon which is kind of like the holy grail in marathon running. I've got a 2:28 marathon PR, but I haven't come within 10 minutes of that since I ran it at the Bayshore Marathon back in 2015. I won the USAT National Championship. I finished 3rd at the ITU World Championships, so maybe an age-group world championship is doable. I'm not going to be an Olympian. I'm probably not going to be a professional triathlete. I just don't see what else there is for me right now. And forget about going longer distances. I can barely fit in training to be adequate at the Olympic-distance let alone training for an Ironman. Someday, maybe. But that day is not today.
The crazy thing for me is that just before my trip out west, I ran a 1:27:15 25k (15.5 miles). That's a 5:37/mile pace the whole way. En route to that, I set a half-marathon PR of 1:13:00 (5:34/mile). I mean, that was barely 2 months ago! And now I'm having trouble running under 36 minutes for a 10k off the bike when I had been running in the mid-33s last year. I just don't know what's going on and how everything could change so quickly. And more importantly, how to fix it.
So what now? Well, like I said, I've got to figure that out. First, is graduating from MSU with my PhD in Kinesiology. That is priority #1 for this year (hopefully, in December!) #2 on the list is finding a job for when I do graduate. I either want to find a teaching position at a university or work with athletes like I am with my dissertation and the driver study. Spending time with friends and family, traveling, and triathlon are on the list too. I often feel that my life balance is way out of whack: I wake up, I train, I go to school, I come home and train again, I go to bed. No real socialization other than the occasional workout with friends because who has time to actually just hang out?? Because triathlon is not one of my major foci (the nerdy version for the plural of focus :D) right now, that means I'm probably not going to repeat as national champion. Heck, with the way I'm racing right now, I'll be lucky to finish in the top 10. I've only done 2 of the 6-ish triathlons I have on the calendar for this year so there's still time to turn things around. But with nationals coming up in 3 weeks, the time to put in the work to get faster is all but passed.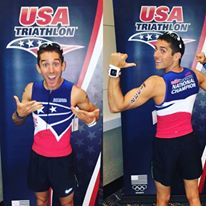 I couldn't believe I actually won the national championship!
Last year was a really special year where everything clicked. Even after crashing my bike and thinking my pinky toe was severed from the rest of my foot just a week before the race, I still managed to pull out the win. This year, I've avoided any major catastrophes, but the one thing that has changed is my consistency. Training, sleeping, and nutrition have all taken a hit. I didn't mention the nutrition piece before, but traveling so much means eating out quite a bit and not having the most nutrient-rich foods out there...but boy is it delicious! Probably the most important thing you can do as an athlete is to be consistent. Put in the work day in and day out and all the little things you do add up to big things. I guess that can probably be said about anything and not just athletics.
So I'm going to put in the work day in and day out with my dissertation so I can graduate and become Dr. Todd Buckingham (not the kind of doctor that actually helps people, though :P). Then, once that's finished, maybe my focus can turn a little back toward triathlon. For now, I just have to be okay with just being okay at triathlon.