BACK IN BOSTON
Well, I made it back to Boston to try and earn some redemption from my race last year. For those of you who want to know how last year's race went, click here. The ultra-short version, I had my worst marathon ever, missed my goal time by 25 minutes, and was defeated by the beast of Boston.
But this year would be different. This year I would redeem myself…or would I?
BOSTON MARATHON EXPO
My parents and I arrived in Boston on Saturday afternoon, dropped our things at the hotel, and made our way into the expo. We parked in a metered spot that had a 1.5-hour time limit so we had to hurry! It was a 25-minute walk to the John B. Hynes Convention Center (where the expo was held) and it seemed like everyone who was running the race decided to converge on the expo at the same time as we did. That even included Boston Marathon winner 7 times running…or wheeling: Tatyana McFadden! I was in such a hurry that I didn't get a chance to get a picture…kicking myself for that now! But we had to get in and get out so our car wouldn't get towed! So, my dad and I went off to get our bib numbers while mom went to the expo to scope it out.
I also got to take control of the Every Man Jack Triathlon Instagram story while I was at the convention center. Check that out here!
After running like crazy people through the expo and packet pick-up, we hustled back to our car just in time to prevent it from being towed, and headed back to the hotel to relax. Mom and dad got dinner at Margarita's just like last year; I went and sat with them. It was basically torture looking at dad's nachos and mom's chicken quesadillas and not being able to eat them. drool!
SUBDUED, BUT SCORCHING SUNDAY
It was an early bedtime for us on Saturday night (8:30pm!) so I was able to get 10 hours of sleep even though I woke up at 6:30am.
Sunday was just about relaxing and trying not to do too much so I was rested for the marathon on Monday. It was scorching, though: 85 during the heat of the day. I got my morning run in early while it was "only" 65 and was thankful that the race was Monday (spoilers: that feeling would change!)
MARATHON MONDAY
Pre-race
The best part about The Marathon is that it doesn't start until 10am. That means no 3am wake up to eat, go back to sleep, and then get ready for a 7am start. So I got to sleep in until 5:30am and take my time getting breakfast and all my things together.
My hotel had a special deal where they would shuttle us out to the race start…or so I thought. I got on the bus at 6:45am and the driver didn't seem to have any idea where he was going. We got it sorted out with the desk workers at the hotel, but this year was definitely different in where we were dropped off. Instead of pulling right up to the Athlete's Village where they staged us before the race, we were dropped off at the starting corrals about a mile away from the Village. Ugh! This meant that I had to walk all the way to the Village and would then have to walk all the way back to the start. Because I'm not running FAR ENOUGH today! *rolls eyes* I just tried to enjoy the walk and collect my thoughts. Any negative thinking this early could totally throw you off your game so I tried to stay positive.
One of the cool things I got to see was ultra-runner extraordinaire, Scott Jurek, as I was walking from the bus to the Village. If you're not familiar with him, he has won several of the most prestigious ultra-running races in the world multiple times. Again, I wasn't able to get a picture so I guess it didn't happen, right? :P
Once I got to the Village, I met up with a few of my Every Man Jack teammates. It was nice to have some guys together so we could stay relaxed before the race. I decided to go out for a warm-up run a little after 8am to loosen up my legs. Now last year, I could leave the Village to do my run; this year was different. Every time I tried to leave, I was stopped by police/volunteers/anybody else who didn't seem to think it was acceptable for me to go for a short run. *sigh* So I ended up doing the whole run in the Village which is crowded with 30,000 people. I went back and forth along a stretch of about half a mile, weaving in and out of people, dodging, ducking, diving, dipping, and dodging.
I cut my warm-up short partly due to the monotony of running a half mile stretch back-and-forth, back-and-forth, and partly due to the heat. It was only 8am, but I was already baking in the heat. I went back to the EMJ guys under the tent to get some shade and put more sunscreen on (mom would be so proud!)
Now the worst part about The Marathon (this year in particular) is that it doesn't start until 10am. Like I said, it was already toasty at 8am. But 10am, it was up to a sizzling 70. Oof! I decided to adjust my goal based on the heat and start off SUPER conservatively. Originally, I had planned to hit the downhills between 5:40-5:50/mile, the flats: 5:50-6:00/mile, and take the hills by feel: 6:00-6:30/mile. This would put me around a 2:35:00 finish. Based on the heat, I dropped my paces by ~15 seconds/mile so that I wouldn't end up sprawled on the side of the road with heat stroke.
So, after making my way all the way BACK to the starting corrals (which if you remember, is where I was originally dropped off), it was finally time to get ready to run!
11,000+ steps before starting
THE START
I met up with a fellow Michigander in the starting corral, Scotty McKeel. Scotty ran at Grand Valley State University and is now a Physical Therapist in Grand Haven. We got to chatting and it sounded like we had the same experience at Boston last year (out really fast, crawled to the finish) and were going to try and reign it in this year and be smart!
Scotty and I stayed together for about the first mile, but there were so many people that it was hard to maneuver by yourself let alone have two people occupy the same space and we split.
Lucky for me, fellow EMJ teammate, Matt Malone, came up behind me and we joined up just like we did in Vegas during our 4 x 1 mile hill repeats. He let me know that his leg wasn't feeling great so I should go whenever I felt like it. I told him that I would stay with him, just like we did with the hill repeats; it's always better to run with someone than be by yourself. Matt and I were chatting for a while and I brought up our EMJ teammate, John Kelly, who just became the 15th person ever to finish the Barkley Marathons. If you don't know what that is, check it out HERE. It's basically a 100-mile race through the mountains of Tennessee that you have to finish in under 60 hours. Read about John's experience HERE. It's seriously amazing! I told Matt that we would have to run from Hopkinton to Boston and BACK twice in order to get the same mileage…and nowhere near the same elevation (Cumulatively, we would have 4,246 feet of elevation gain and loss in our back-and-forth trips. John had over 60,000 feet of elevation gain ALONE for his race. Yeah, that's Mt. Everest. You're crazy and awesome, John. Crazy awesome!) So after about 3 or 4 miles of chatting and running together, we came up to an aid station and got separated a bit. I took a peek over my shoulder and he urged me to go ahead. I was feeling particularly good, so I decided that I would let it roll and we agreed to meet up at the finish.
5k split (3.1 miles)- 18:24 (5:56/mile)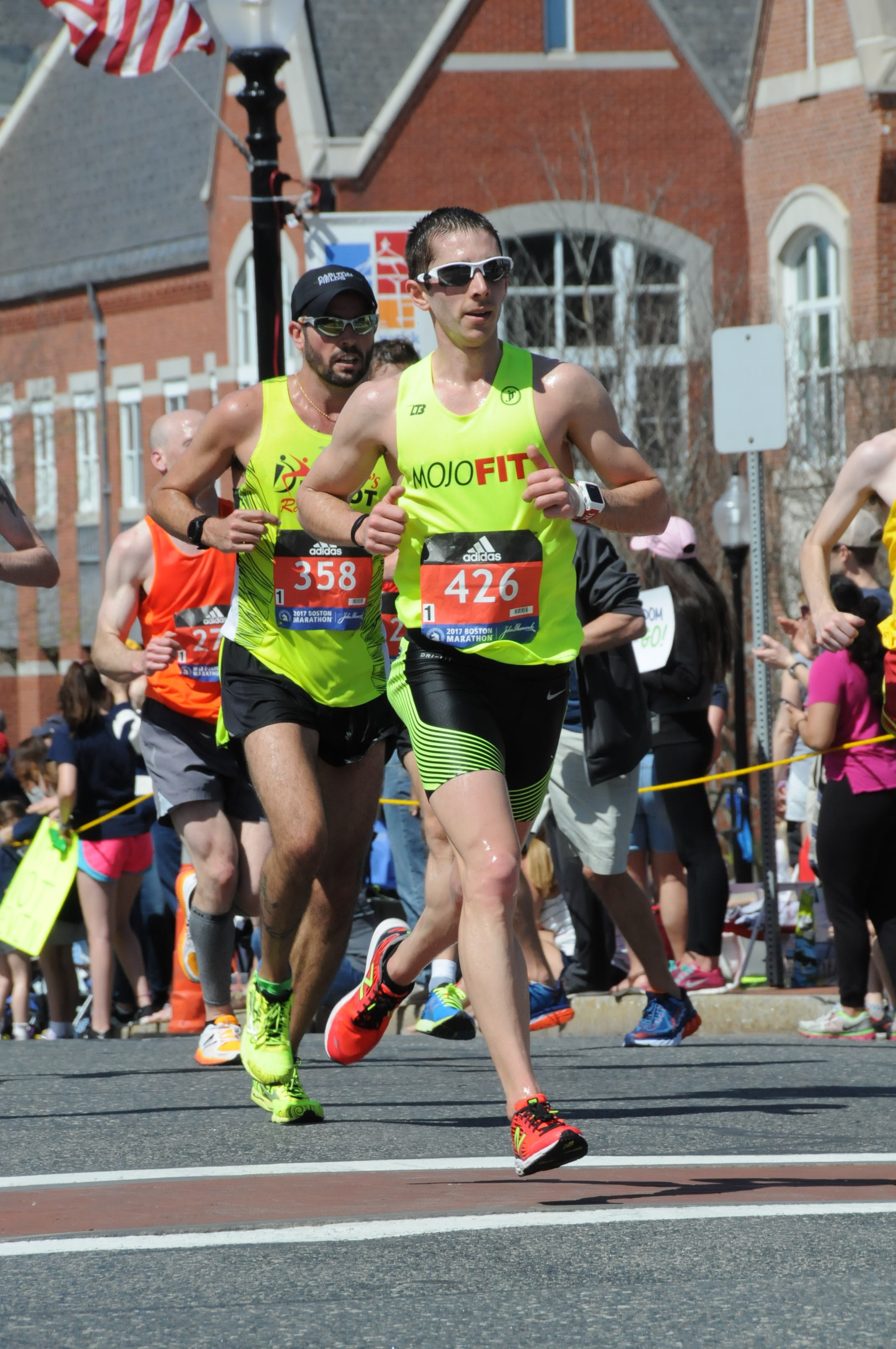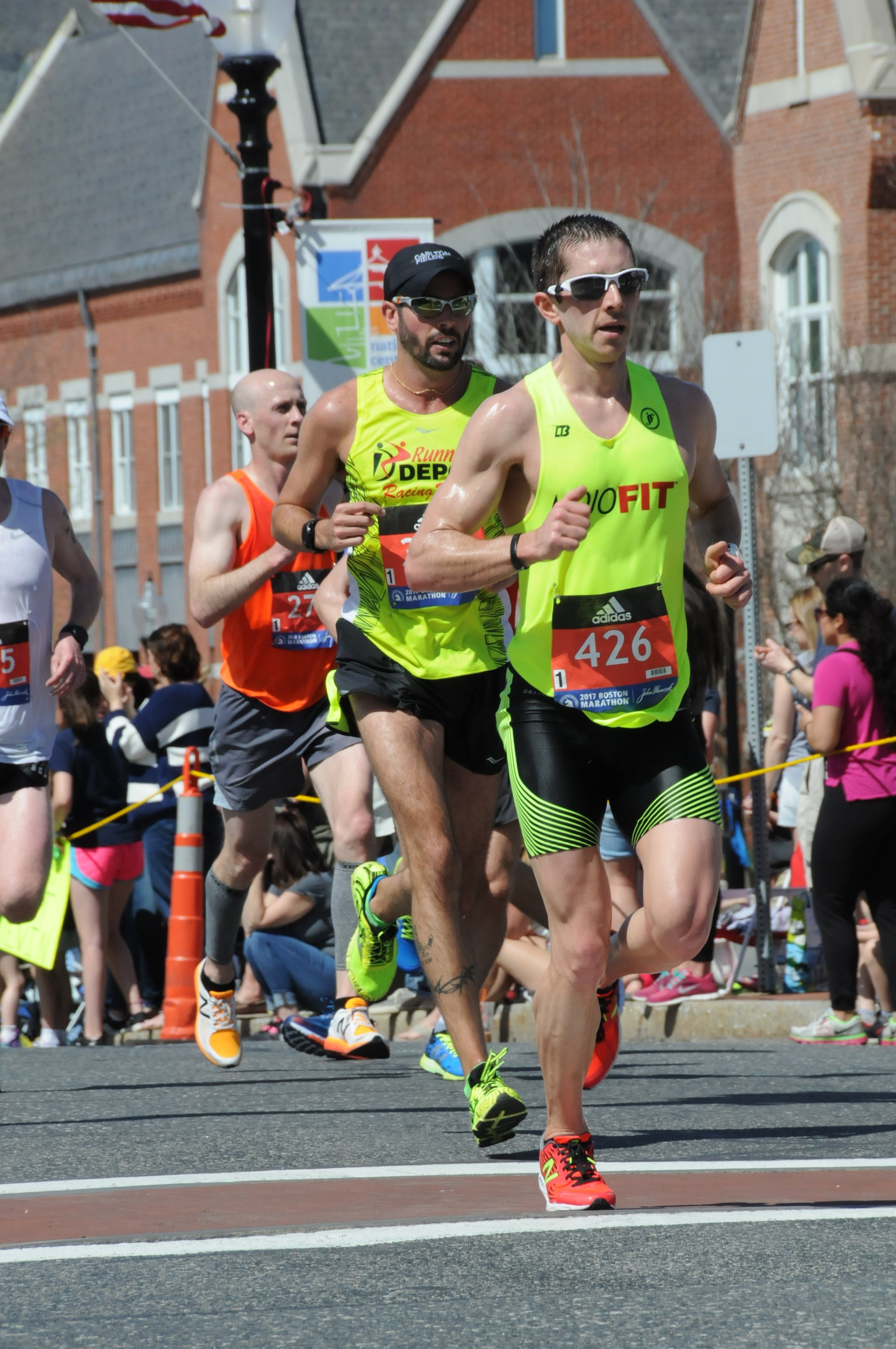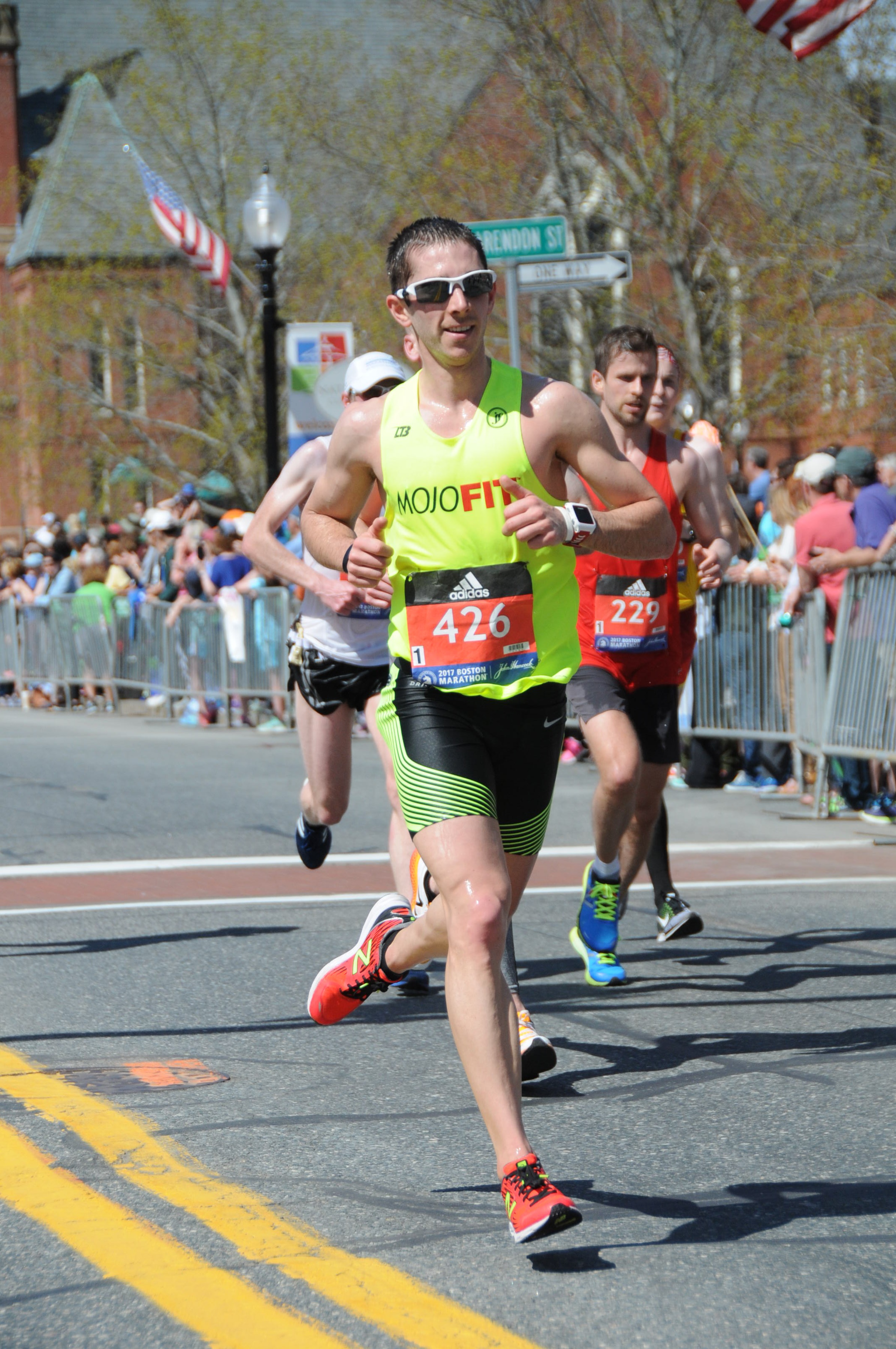 FLATTENING OUT
The first 10k at Boston is all downhill. I remember last year getting to the flats and thinking, "Oh my gosh! I actually have to start running now." Because you essentially just fall the first 6 miles. This year was much different. I was still feeling good and holding the same pace wasn't much of an increase in effort. It was nice to feel this way because I remember how much I hurt last year. Around the 8-mile mark, I saw mom and dad again; same place as last year. Actually, I heard mom's whistle before I crested the short hill where they were waiting for me. I gave her a whistle back to let her know I was coming. They asked how I was doing and just like last year, I told them I was doing good. Except this year, I actually meant it! I tried faking it last year, but knew that my race was quickly unraveling. This year I was feeling good, but it was warming up even more.
10k split (6.2 miles)- 36:43 (5:55/mile)
THE FLATS
15k split (9.32 miles)- 54:50 (5:53/mile)
Miles 6-16 are basically all flat. There are some downhills, like through Wellseley College, but it's just more about staying in a nice rhythm on those flats. I went through the halfway point in 1:17:37 which was about 3 minutes slower than last year, but was feeling much better comparatively. It was also right around the halfway point that another EMJ teammate, Jack McAfee, came up behind me and gave me a little butt squeeze. In fairness to him, I told him to do that if you caught me since I would need a little boost if he were to catch me. He was cruising and feeling good. He said he was probably going to blow up, but kept right on trucking anyway. I let him go because I wanted to get through Heartbreak hill at mile 21 before I started working hard (if I hadn't by that point already). It was about mile 15 when I could feel my shoes start to squish because of all the water I had dumped over my head. My feet started to hurt around this point too from the pounding of the downhills that first 10k and the subsequent 10 miles I had run.
20k split (12.43 miles)- 1:13:29 (5:55/mile)
Halfway (13.1 miles)- 1:17:37 (5:55/mile)
25k split (15.54 miles)- 1:32:29 (5:57/mile)
NEWTON HILLS
Then mile 16 comes along and that's when the race really starts. First you get the Newton Hills: 3 consecutive rollers that last for about 4 miles. I tried to keep an even effort (not pace) up these hills so I wasn't charging up and then exhausted for the way down. It was at this point where I made another race goal: don't run any mile slower than 7:00. It's funny how you come up with these mini-goals during the race. Last year, I made the goal at this same point in the race to not walk. It was better this year, but going up those hills still hurt like crazy.
6:27/mile between 25k and 30k which is actually better than I thought because 2 of the 3 Newton Hills are in there
30k split (18.65 miles)- 1:52:29 (6:02/mile)
THE FINAL NEWTON HILL AND HEARTBREAK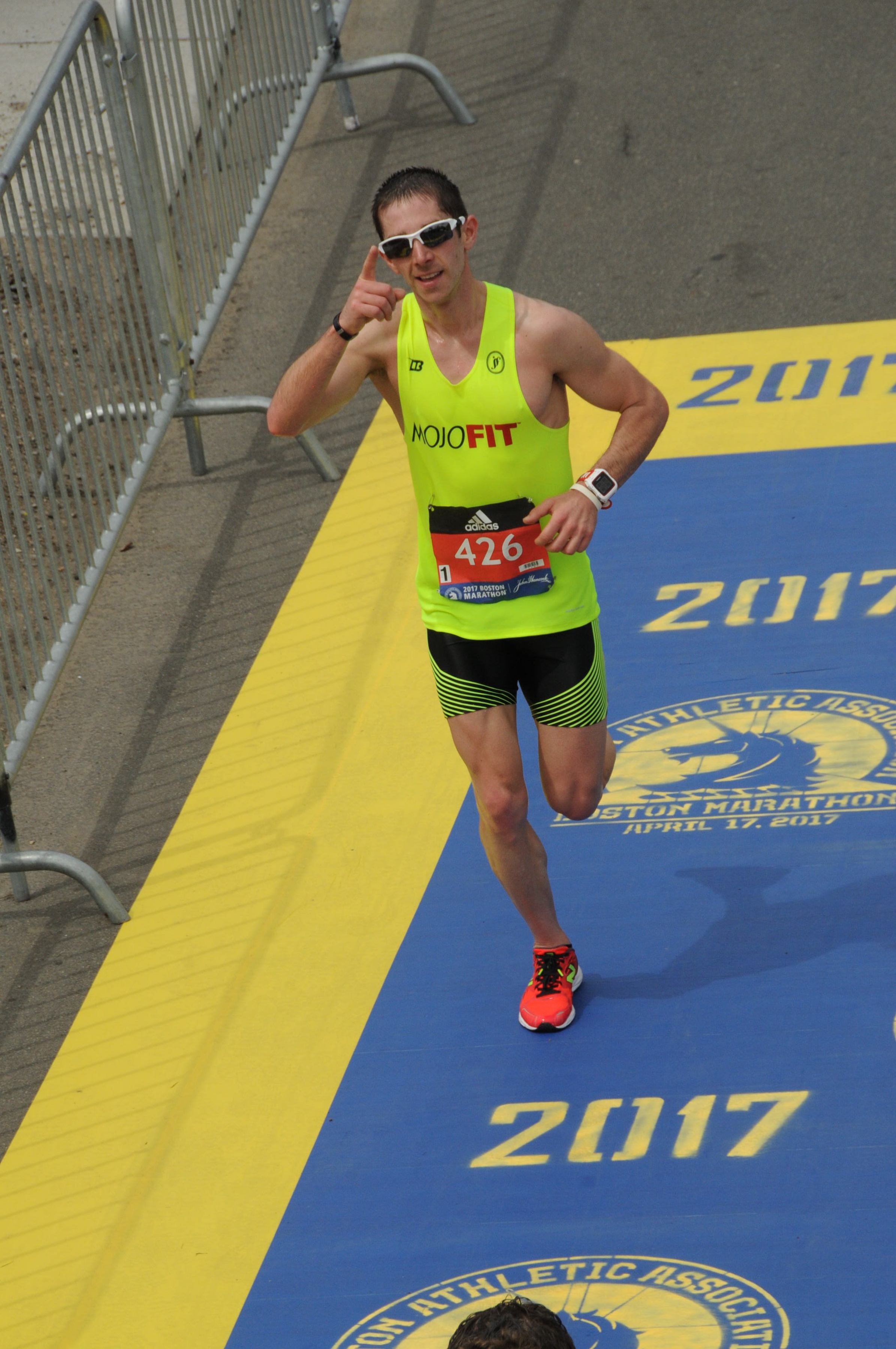 Surprisingly, I didn't feel terrible going up Heartbreak Hill. I even managed a smile at the top for the camera crew. I saw friend Kevin Curley from Grand Haven right at the base of the hill. He was screaming for me and said that I looked good. I kind of shook my head and gave him a high five, but I was feeling anything but good at that point. Several cyclists passed me during the last 10 miles and all I kept thinking was, "What I wouldn't give to be on a bike right now!" *sigh* Just keep moving…don't look down.
6:46/mile between 30k and 35k which is WAY better than it felt because the last Newton Hill and Heartbreak Hill are in there
35k split (21.75 miles)- 2:13:28 (6:08/mile)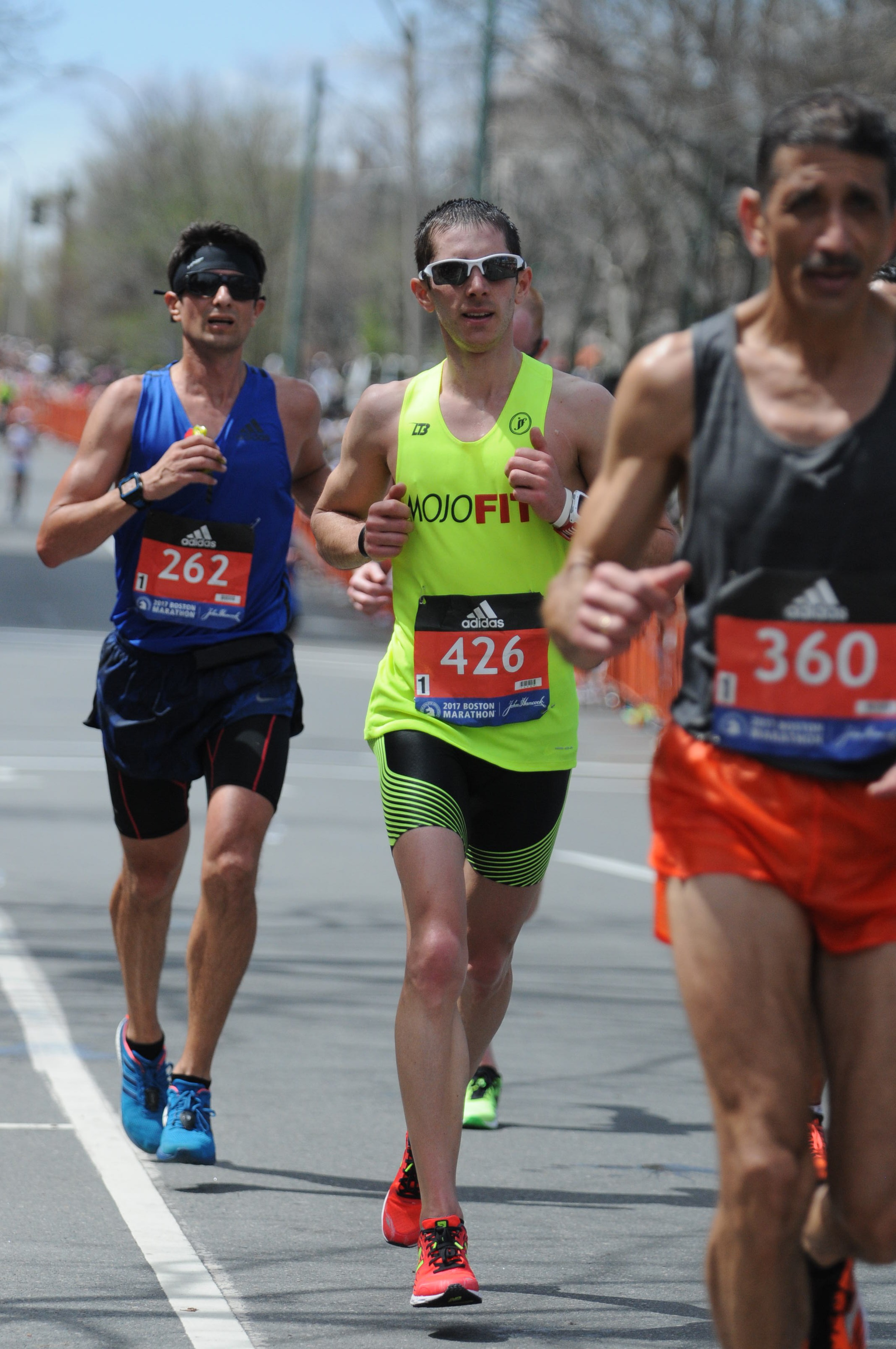 ALL DOWNHILL FROM HERE
After the top of Heartbreak Hill, it's literally a straight drop to Boston; 325 feet of elevation loss in the last 5 miles. So theoretically, you should run faster, right? Yeaaahhhh…not so much for me. My IT bands were as tight as guitar strings, my stomach started to churn, and I was getting light-headed. Even though I took two cups of water at every aid station (and there were 26 aid stations), dumped it over my head, and drank, I was still dehydrated. At this point, there was nothing I could do; it was survival mode. I would feel good one minute and put a little surge in while I could. Then the next minute, my stomach would tighten up in knots, I felt like throwing up, I would grimace, close my eyes, and try to fight through it. The problem was that every time I closed my eyes, I thought how nice it would feel just to keep them closed. Not good. Heat exhaustion was setting in. But I only had a few miles to go. I just needed to hold on.
6:56/mile between 35k and 40k. How am I slowing down? It's all downhill!
40k split (24.86 miles)- 2:34:58 (6:14/mile)
7:08/mile between 40k and the finish. On the verge of passing out
RIGHT ON HEREFORD, LEFT ON BOYLSTON
Thank goodness. The finish line was close! Making these two turns is so relieving because you know you're about to finish the BOSTON FREAKING MARATHON! It's also invigorating because of the raucous crowd cheering everyone on. I took a peek at the clock at mile 26 and it read 2:43:30. I would be faster than last year, but I wanted to go under 2:45 at this point so I knew I was going to have to push it a bit. So, with what little energy I had left, I took off down Boylston. And by took off, I mean I was running at the same pace I was at the beginning of the race: 5:53 pace. At this point in the race, it felt like I was flying, though. All I could think that last stretch was "Almost there, almost there. Just finish and you can stop." I crossed the finish line with my arms outstretched and a feeling of relief that I don't know if I've ever felt before.
Finish (26.2 miles)- 2:44:32 (6:17/mile)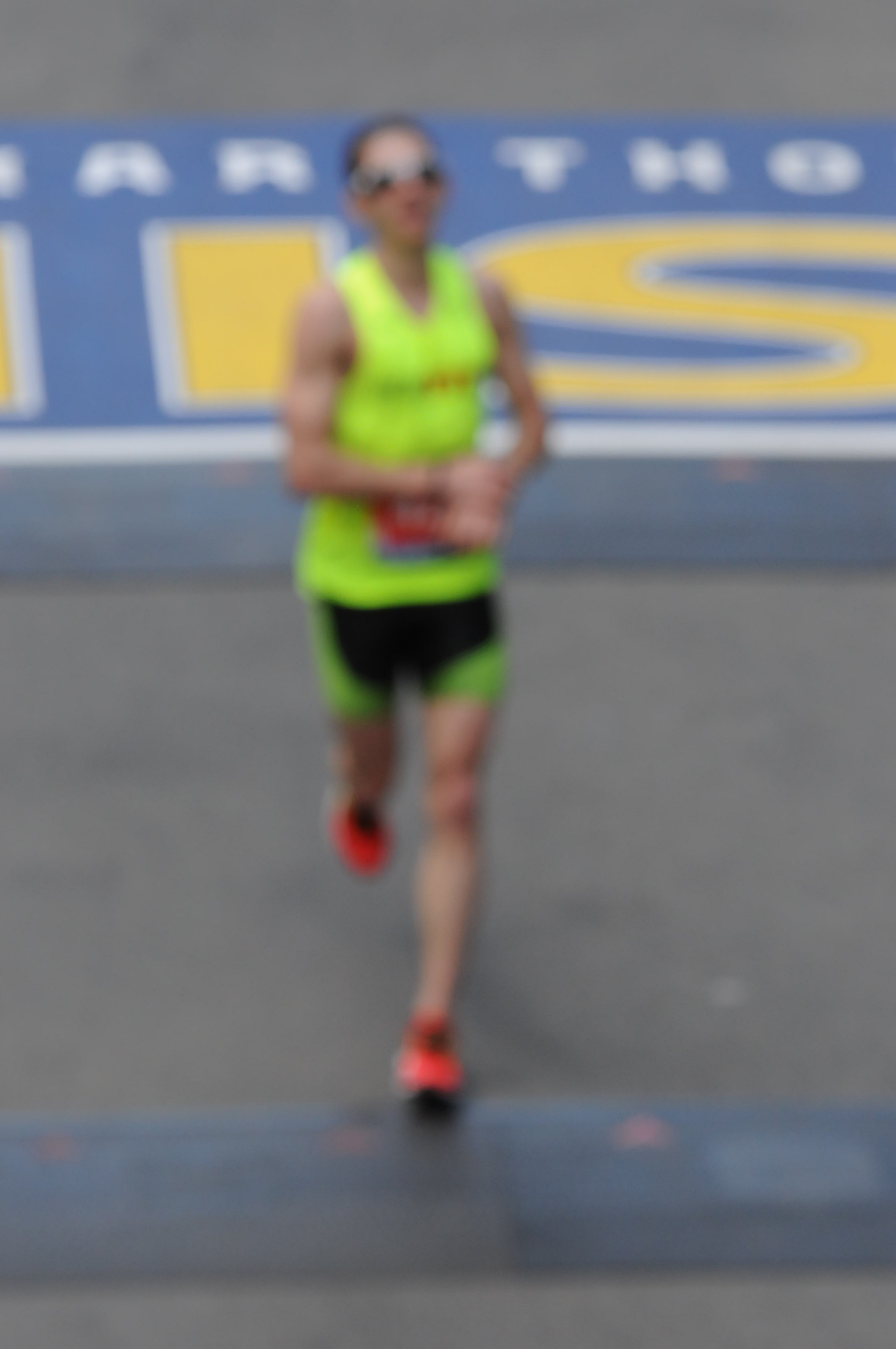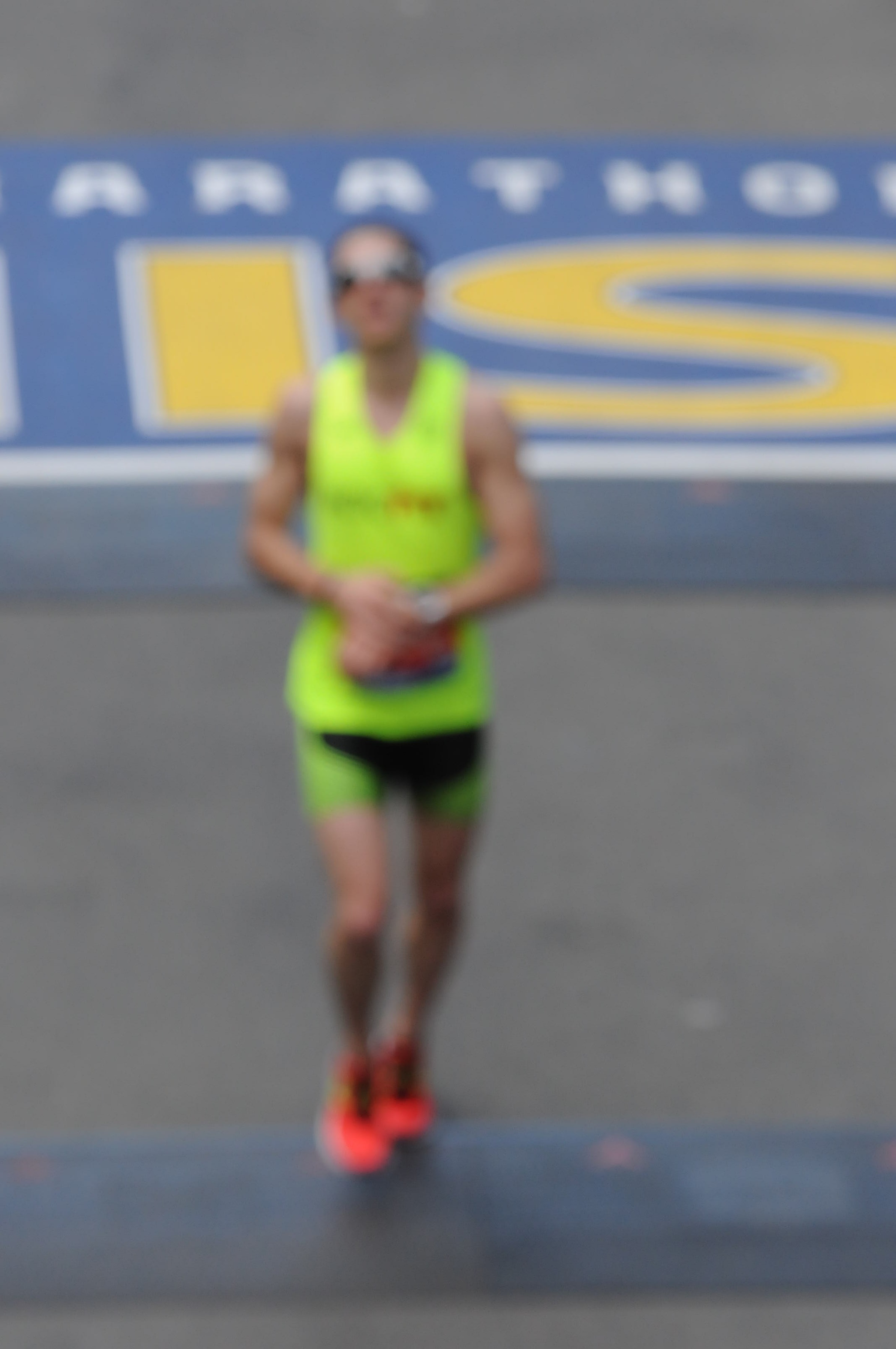 EXHAUSTED. LITERALLY
After I finished, I took a minute to try and gather myself while walking down the finish chute. My feet were aching so bad and my legs were cramping up. Add that to the light-headedness I was feeling and it took me quite a while to make it down the chute which is about half a mile, but it seems like another marathon!
Along the way, I had several volunteers stop me and ask if I was okay. I just told them that I was tired and hot. After all, I had just run a marathon! I had one volunteer grab onto me and walk with me for a good distance. That was nice to have her support my body weight to take the pressure off my legs and feet. Somehow, I managed to stay standing long enough to get a couple of finish pictures.
Finally, I made my way out of the finish chute to my parents. Mom grabbed me right away, but all I wanted to do was sit down. I felt sick to my stomach and just wanted to lie down. I found a nice little patch of grass and collapsed. I knew I was dehydrated, but I couldn't bring myself to drink anything; my stomach was still in knots. I needed to get in the shade, but I was cold and the sun felt so good. A police officer even came up and asked if I needed medical attention. I've had this happen before and it's taken a few minutes, but eventually I've been able to shake it off and be good to go so I told her thanks, but no thanks. Well, this wasn't one of those times and just a short while later, I told my parents that I probably needed to go to the med tent.
The EMTs came and checked my pulse and blood pressure. They said I was at 106/60. Low, but not crazy low for me. They also said they couldn't feel a radial pulse. So I checked and could definitely feel something. Then they tried to put my legs up on their cart. I tried asking them why they were doing this because it didn't make my legs feel any better. In fact, it made them hurt more because I had to hold my legs up and actually started to cramp up. Dad stepped in to save the day and massaged my legs to stop the cramping in my adductors. Soooooo painful!
Eventually, I hopped in the cart and they took me to the med tent where I spent a good hour. My ear temperature upon arrival was at 94 (core temp was likely much higher) and I was clearly dehydrated because when they drew blood, it came out nice and thick with a deep burgundy hue. My hematocrit (the percent of the blood that's red blood cells) was 50% and normally it's around 42%. This is a clear sign of dehydration so they hooked me up to an IV and gave me lots of fluids (almost a liter's worth). I immediately started to feel better with the IV and was up and ready to go. I still couldn't drink a whole lot because my stomach was still churning, but at least I had some fluids in me now.
I'm definitely going to use myself as an example when I get back to MSU. I just taught my students about thermoregulation and the dangers of dehydration and heat illness. THIS is why it's important to track your sweat rate; so you know how much you need to replace and don't end up in the medical tent after a race 😝
GOING HOME
I met back up with mom and dad and we made our way to the train station to head back to the hotel. The only problem was that the next train wasn't coming for another hour plus; we had just missed the last one by less than 30 minutes. Why did I have to spend so much time in the med tent?! Instead, we got an Uber (our first one ever!) and made it back to the hotel before the train even left.
I finally started to get my appetite back at the hotel room. I was planning to get a cinnamon roll in Hopkinton the day before the race, but the bakery closed early even though they said they would be open until 3pm…disappointed. Thankfully, I brought one with me from Whipped Bakery in Lansing, MI, just in case :) I had probably lost a good 5-6 pounds because of how dehydrated I was. I wish I would've been able to weigh myself because that would have been interesting to see. I could tell I had lost a lot of weight because my face was sunken and all my abs were popping through (not something that normally happens!)
We started the drive back to Michigan right after the race, just like last year. Unfortunately, we got a bit of a later start than we'd hoped due to my detour to the med tent. I never sleep well after any race and this one was no exception. I woke up at 4:30am and tried to go back to sleep, but just ended up laying there for 30 minutes before I decided to get up and go for a walk to stretch my legs out. After leaving our hotel in Rochester, NY, we were able to stop at Niagara Falls on Tuesday morning to take in the brilliance of the falls. They never cease to amaze me.
We weren't able to stop by and see Dan and Laura in Port Huron on the way back, but thankfully, we got to see them on the way to Boston. I'm so thankful that running the marathon gives me an excuse to see some of my best friends in the world 😊
RACE DAY TAKE-AWAYS
Much like last year, I didn't meet my ultimate goal. I knew this wasn't going to happen with the hot weather, but Coach Barb and I talked about goals before the race. I told her that 2:30 would be the ultimate goal and one that I would be ecstatic with. Between 2:30 and 2:35 would still be a fantastic race and a time that I felt completely capable of with the solid training I had put in. 2:35-2:40 would still be a very good race and even under 2:45 would have been good (especially considering the heat). Above 2:45 and I would have been pretty disappointed.
Well, I finished just under that mark in a time of 2:44:32. If I had been able to hold it together for the last 5 miles (the last 2 in particular) and closer to 6:30 for each like I had the rest of the race, I could have run under 2:43 which I would have been extremely happy with considering how awful I felt for that last ¼ of the race. I'm still happy about my finish and proud that I didn't walk again (I hope this doesn't become a theme because I'm not at the point in my athletic career where I want this to be a goal of my racing!)
I was really hoping to finish in the top 100. The time it would've taken to do that was 2:35:15; something I thought was very achievable for me at The Marathon. The Marathon had other ideas…one of these days, Boston and I are going to get along, but I think I need a break for a while. After the race, I was in so much pain and I told my parents that I don't think I want to do Boston again. At least not for a little while. First of all, it's expensive: $180 for race registration, ~$600 for hotels, add in gas, tolls and food, and you're looking at close to $1,000. Most of this fell on my parents and while I appreciate them helping me out, I also don't like putting them in the position where I have to rely on them in order to make the trip (even though I do appreciate it!) Second, I just can't train my body for the hills of Boston. It would be like studying English to take a math exam. I'm running on flats for a course that is extremely hilly; it's just not going to end well for me. Even though I ran 5.5 minutes faster than last year, it was still my 2nd slowest marathon in 7 attempts at the distance. It should be at this point where I'm running my fastest marathons because I have more experience at the distance, not the other way around.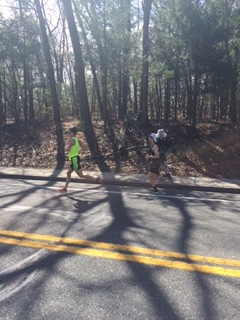 Finally, I just want to give a shout-out to my parents. They are seriously awesome, you guys. Not only did they cover the cost of a lot of the trip (I did buy lunch and gas and offered to share my cinnamon roll :P), but they also drove the majority of the trip. Of the 28 hours driving to Boston and back, I think they drove 26 of those hours. They also figured out a way to see me on the course for all of 30 seconds as I ran by (flyby pictures seen here ---------------------> I'm always uplifted by my mom's whistle that I can hear from almost 1/2 mile away :) Then they waited for over an hour while I was in the med tent (because they hadn't waited long enough for me to run the race) when I know all they wanted to do was be with me. I'm not always the easiest person to be with around race time, but they put up with me and make sure my needs are taken care of (however silly they might be!) Thanks mom and dad. Love you, love you, love you!
Now it's time to rest and get ready for the next race: 5/3 River Bank Run 25k on May 13th. Gosh, that doesn't seem very far away! Thank goodness it's "only" 15.5 miles! 😝 Until next time, enjoy some fun stats from my race in Boston!
FUN STATS (at least I think they're fun!):
Fastest mile: Mile 4- 5:54.9
Slowest mile: Mile 26- 7:18.5
Mile I'm most impressed with: Mile 17- 6:24.6 (95 feet of elevation gain, the 2nd most of any mile on course)
Total steps throughout Marathon Monday: 46,549
Total distance covered throughout the day (no swimming or biking!): 35.1 miles
Calories burned throughout the day: 4,718
Sweat lost during the race: a lot. Close to 1 gallon. I started the race at 128 pounds and finished at 120 pounds.
Cinnamon rolls eaten: 1
Blackened toenails: 1