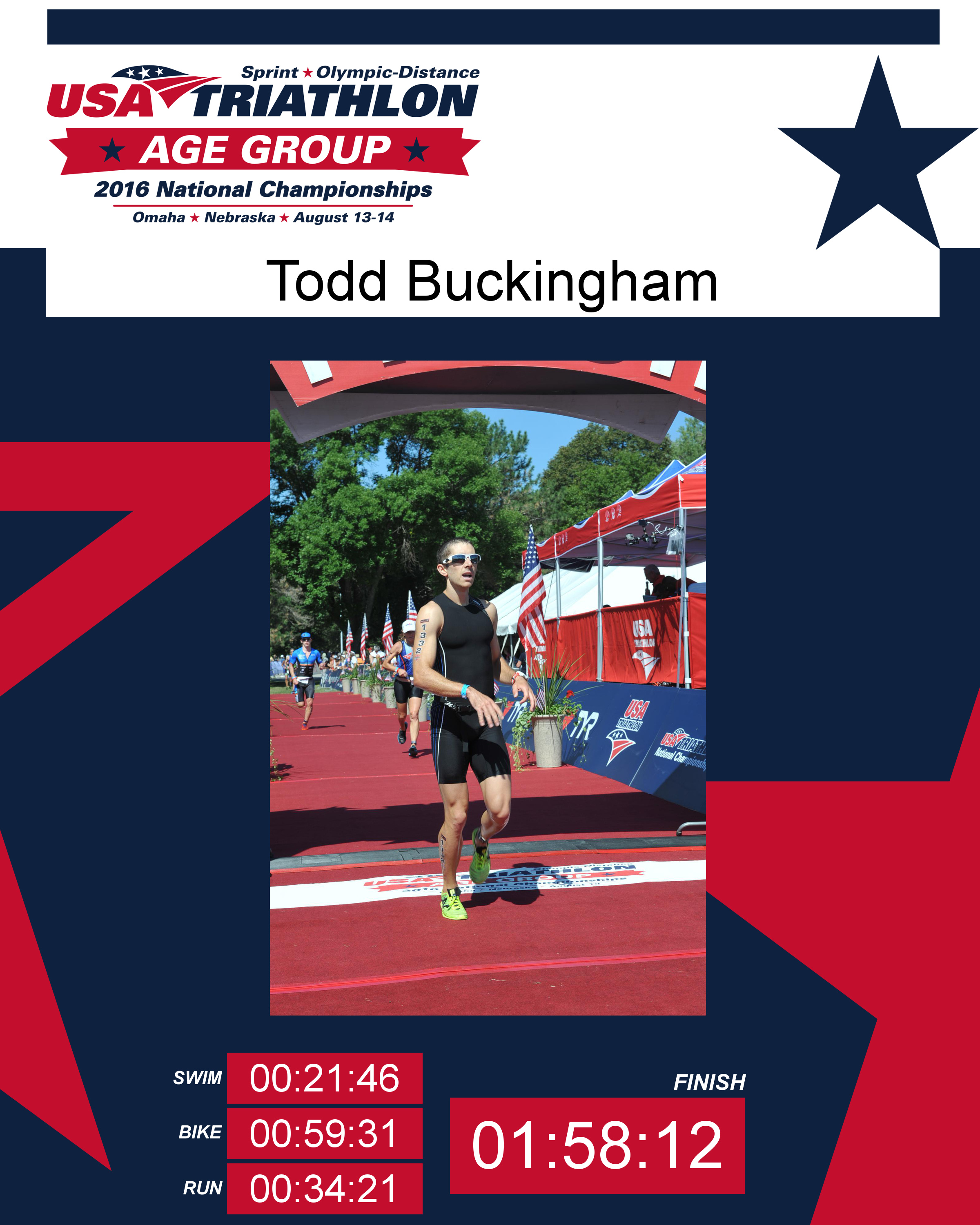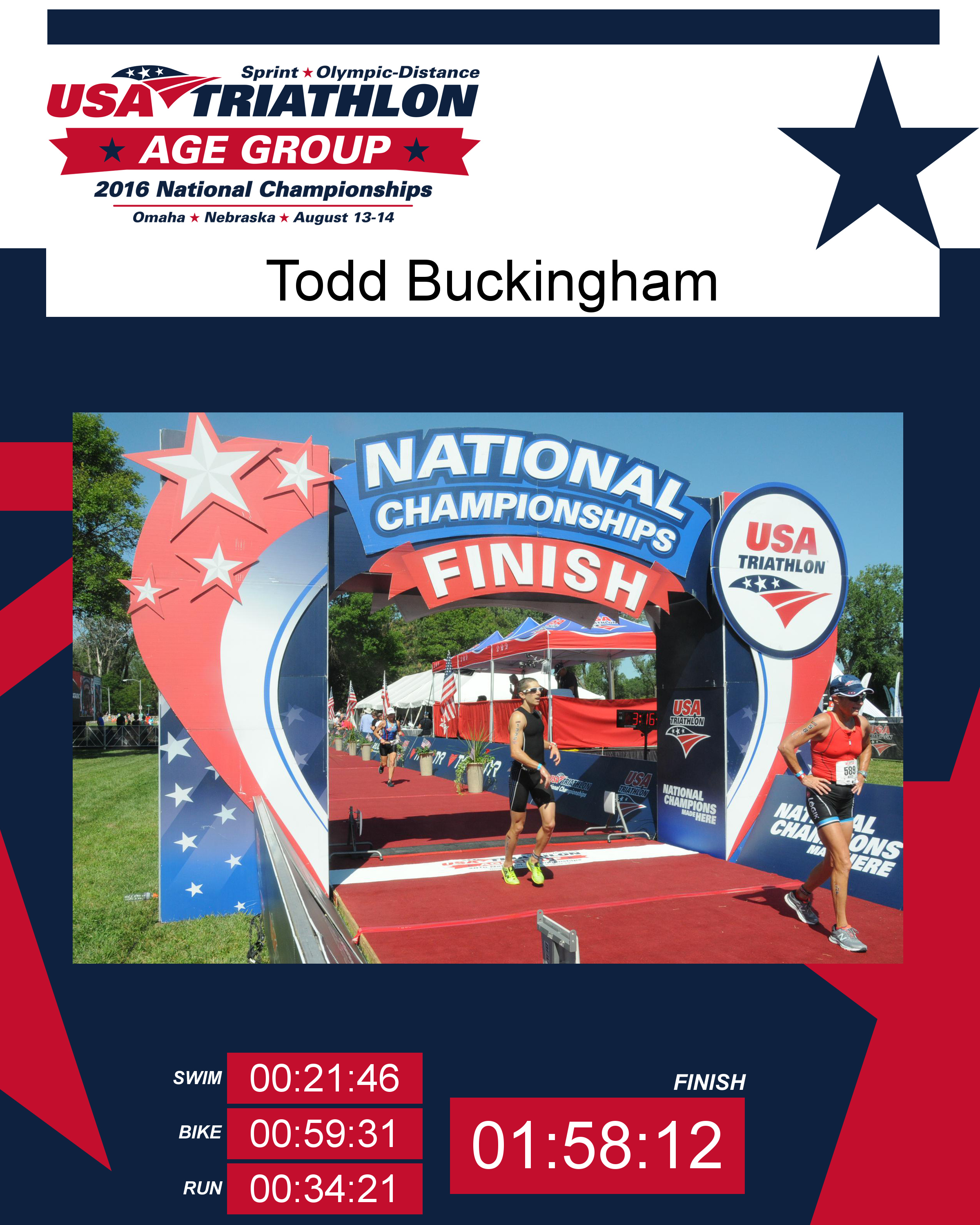 The finish: Across the line, into the med tent, and providing a "sample"
Immediately upon finishing, I grabbed the nearest volunteer and told them I needed help. Like I said, I gave everything I had and couldn't even hold myself upright. I knew I had crossed the finish line in first place, but it didn't really sink in that I won my age group for a little bit. Let me explain.
So I had a volunteer help me stay upright and walk me for a bit while I tried to find my dad. After a couple minutes of searching, the volunteer had to go back to the finish line to help others which was fine because I was beginning to come around at this point. The only thing was that my feet were on FIRE! My toe actually felt great, but I had several hot spots on the tops of both feet that had just rubbed raw. So I went to the med tent and just had them bandage me up a bit. It was here that a race reporter approached me and asked to interview me because I was the winner. I thought she was just talking about the winner of my age group until she said that I was the overall winner. Like the winner out of EVERYBODY! While I was excited about this, I knew the 20-24 age group started right behind me so I didn't want to get too excited.
There was one guy in particular who I thought was going to win the whole thing: Jack Felix. Jack was another of Coach Barb's athletes who is in the USA Triathlon Collegiate Recruitment Program. The program identifies college swimmers and/or runners and tries to convert them to triathletes (a la Olympic Gold medalist Gwen Jorgensen). Jack just so happened to run at the University of Tennessee AND Clemson. Basically, it means that he's really fast! I even told my dad the day before the race, "Well I don't have to worry about winning because this kid is gonna do it."
So the reporter asked me some questions and I probably droned on and on much more than she needed (so it's not just you who I do it to!) I thanked her for chatting with me (you can read about that here) and while I was talking to her, my dad had found me, came up, and gave me the biggest hug ever. "You did it!" he said in my ear. I guess I did! Wow. How cool?! The coolness was short lived though. I still couldn't be sure until the final results were posted (remember the drafting penalty I might have incurred on the bike?) So again, I didn't let myself get too excited.
SIDE NOTE: A lot of people were following along on my day through my dad. I know you were all excited to hear how I did and were getting on his case for not posting my results. Well, I just want to tell you it was NOT his fault. I told him to wait until it was official before posting anything. So blame me, not him :)
We're going to need a "sample"
So after I was finished in the med tent and getting my feet taken care of, another official approached me. This time, it was someone from the United States Anti-Doping Agency (USADA). Apparently, if you win your age group at a national championship, you have to get tested for drugs! Oh boy. I was escorted to another tent where I was sequestered from my friends and family so I could provide them with a "sample" (aka I had to pee in a cup!) After filling out a lot of paperwork, I was ready to provide said "sample". So my escort followed me into the porta potty and made sure that the "sample" was coming from my body. I got it taken care of, but after I finished, the USADA official told me they were going to need more. Well thanks for telling me now! I would've waited until I really had to go if I knew they needed a 90mL "sample". Jeez! Now I had to try and drink a ton of water to expedite the process all while my dad and cousin sat anxiously outside the tent and my friends were crossing the finish line. I ended up drinking at least seven 16.9oz bottles of water and two 20oz bottles of Gatorade (158oz of fluid!) during my 2+ hours in the USADA tent. I was finally able to provide them with enough of a "sample" that I could leave! Now, one of the problems with drinking 158mL of fluid is that I had to pee...er...provide more "samples" haha. I went at least 40 times after I left the drug tent at 1:30pm and before I went to bed at 11:00pm. I just wish I could've gone with that kind of frequency and volume while I was IN THE drug tent!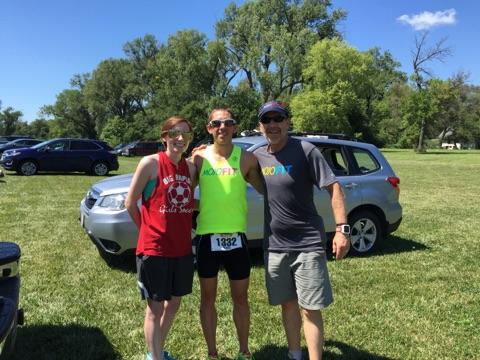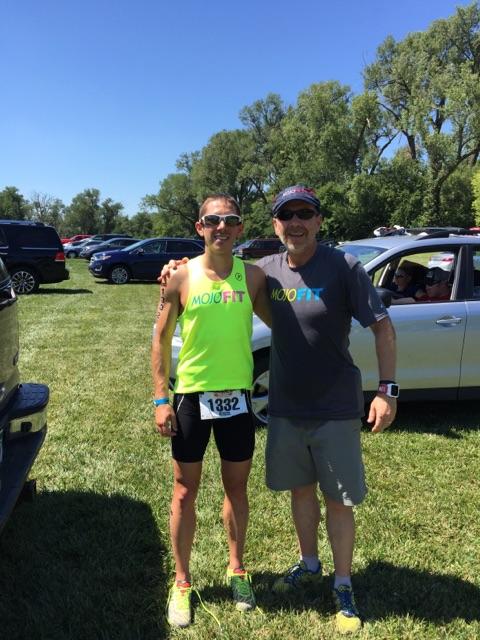 At first, the testing process was kind of a cool experience. I was getting tested just like the pros! After spending over 2 hours there, though, it was NOT so much fun. This entire process honestly kind of ruined the experience for me. I especially felt bad for my dad and cousin who had to wait outside the tent and could only come talk to me through a 3 foot wide gap in the tent. I wanted nothing more than to celebrate with them, but couldn't. Another thing I couldn't do was EAT. The last thing I had eaten (other than a few gels out on the course) was a banana at 7am. I didn't get out of the USADA tent until after 1:30pm so I was RAVENOUS! I was even getting a little light-headed in the tent after not eating anything for so long. The hanger was real!
So I finally got to leave the tent and be with my dad, cousin, and Elaine who had finished while I was in the USADA tent. We were all kind of spent after waiting for 2+ hours, though, so we just went back to the hotel and laid low until the awards ceremony. Even while we were waiting, we hadn't heard confirmation on final results so I STILL didn't get too excited. Waiting for this was harder than the race itself!
The Awards Ceremony
We made our way to the awards ceremony and found a nice surprise waiting outside the ballroom. A final list of all the age group winners. It was finally official: I was #1!
The awards ceremony was pretty cool. There were so many inspirational athletes including Sister Madonna Buder, the Iron Nun. Yes, THAT Iron Nun from the Nike Commercial. She was the only athlete to get a standing ovation, and rightfully so.
Now I know I'm not the fastest amateur triathlete in the United States; not even close. That designation may belong to my buddies Ryan Giuliano (top amateur at the North American Ironman Championship) or Louis Cayedito (whom I have yet to beat in a race). And honestly, one of the thoughts I have about this race is that if I'm the national champion, it must not have been a very competitive race. But as I was watching the Men's Olympic 100m final and watching Usain Bolt win (again...), they said something that stuck with me. He ran a "slow" time and the announcers said, "Even though it was a pedestrian pace for Bolt, he beat everybody who showed up to the starting line and what more can you ask of him." So even though I didn't compete against my fiercest (and friendliest!) rival, Louis (whom I have yet to beat in a race), of all the athletes who showed up, I was the fastest.
I think one of the things I am most proud of is having the fastest run split back-to-back years! To me, that means that last year wasn't a fluke. This year I outran everybody by almost a full minute and I outran everyone in my age group by almost 2 minutes. I guess I'm kind of good at this running thing, huh? :P
So are you going to the Olympics?!
I've also gotten a lot of questions and comments about if this means I am going to the Olympics. In short: no. This race was only for amateur triathletes meaning no professionals are allowed to race. And guys let me tell you, if they were, they would whoop my butt! Take for example one of our Olympians, Joe Maloy: Joe ran the 10k in this year's Olympics (after swimming and biking) in 32:37. I run a 10k (without swimming and biking beforehand) in 33 minutes. Oh, and the run is my best event and arguably Joe's worst...so yeahhhh. However! While I was looking up these results for Joe, I did find out that in 2009 as an amateur he won...wait for it...you guessed it, the USA Triathlon Age Group National Championship. (Video for "so you're telling me there's a chance!") So I guess you never know.
Post-race food
I know you are all wondering what I treated myself to after the race...
Remember how I said I couldn't eat in the drug tent and that I was ravenous? Well, my mom made some bars of deliciousness (a mixture of graham crackers, oatmeal, condensed milk, and chocolate chips) and I just so happened to have one waiting for me back in the hotel room. It was the first thing I had eaten since 7am and as you can see from the pictures, it was heavenly (thanks mom! And thanks Cousin Britt for documenting it haha.) After the awards ceremony, we went out to dinner and I got a delicious pizza (not pictured) and split a s'mores layer dessert with my friends Sam and Sara. It even had a real toasted marshmallow on top! The next morning, I FINALLY got my post-race cinnamon roll from Sweet Magnolias Bake Shop in Omaha. Yummmmm. Then for lunch, we just so happened to stop at a place that had MORE cinnamon rolls. As you can see, I got a flight of 5 rolls, all of which were delicious! (And don't worry, I shared!)
Lots of thank yous!
Finally, I couldn't have done this without the support of a few key people. First of all my sponsors, MojoFIT, James Fry Photography, and Rise Grand Rapids. Team MojoFIT for helping me get to the race and the sweet gear (a bunch of people were asking me about the sweet singlet I was wearing and who this crazy company was!), James Fry for being one of the first to congratulate me (not surprising since he is the media guru for Team Todd!), Nick and Becca Van Liere at Rise Grand Rapids (they just had their first child, a baby girl! You guys are the ones who really deserve all the congratulations!) Even though these companies are basically just my friends who are helping me out, I seriously couldn't do it without you all, so thank you!
Second, Coach Barb for figuring out how the heck I was going to train with a bum foot the entire week leading up to the race, having faith and confidence in me, and getting me ready to have my best race possible, even with minimal training.
Of course, my family. My dad for being my "Bagman" (not to be confused with Batman!) and following me to all my races, carrying my bag, and making sure that I have everything I need on race day. My mom for giving me that extra 1 degree. It really did make the difference between 1st and 2nd out there. OJ! My brother for taking my call after the race even though you were in the middle of your Spiderman premiere (yes, he is really Spiderman!) I think you were more excited for my win than I was! Just listening to the excitement in your voice was getting me choked up. And Cousin Britt for making the 2 hour drive from Des Moines, sitting around for 2 more hours to watch me exercise competitively, and waiting another 2 hours while I tried to pee in a cup (tee hee). Thank you and I love you all!
Thanks to my travel buddy and racing partner Elaine who rocked the double (Olympic and sprint distance races back-to-back days!), fellow competitor Chris Douglas (the guy I BARELY beat) for pushing me to my limit (he also rocked the double and won the sprint!), my neighbors, the Brejchas (Breckinghams!), for taking me...scratch that...MAKING me go to the ER after I crawled to their house, pounded on their door and bled all over their porch (sorry about that guys!), Mary Beth Beamer for the massage after my crash, and Dr. Jeff Mossel for getting my foot ready to race.
Finally, I can't believe the outpouring of support from you all! It is seriously overwhelming and humbling and I don't even have the words to begin to describe how appreciative I am so I will just say, "Thank you, thank you, thank you!"
You can read the official USAT article on the race here, click here for my blog on the USAT website, or click here to see how I celebrated on the USAT website.
I've got the world championship coming up in Cozumel next month so I'm going to do everything I can to represent the US and do my best to have another strong finish!