Hi! Remember me? It's been a while since I've posted anything. Sorry if you were waiting on the edge of your seat for another post, but I've been BUSY! Since I last saw you after the USAT National Championship, I raced another SEVEN times! I also worked for a sports nutrition company (Unit Nutrition) and traveled to New York, Connecticut, Ontario, Wisconsin, Virginia, California, and Georgia where I measured physiological variables of race car drivers. It was a blast!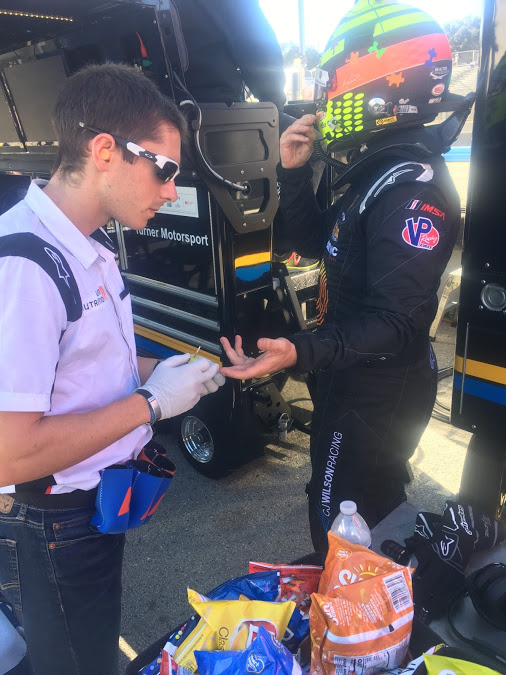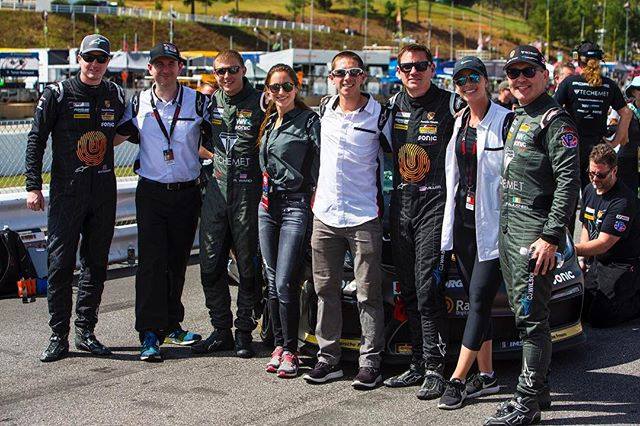 I've also been collecting the remaining data for my dissertation and writing that (which is probably a little more important than writing one of these!) 😲
I'm just going to give a quick breakdown of the 7 races here instead of giving each of them their own post because...well, that would more work than I want to do! 😋
9.3.17
Boyne City Triathlon
3rd Place Overall
Finish Time- 1:57:13
I did this race because Todd and Sam have done it and said it's a must! Aaaand I fudged this one up. It was really cold so I put arm warmers on my bike in case I needed them after I finished the swim. Well, I decided I didn't need them and through them to the ground. Unfortunately, one of them got caught in my bike chain and as I tried to ride out of transition, it stuck and I couldn't ride. I spent a good chunk of time yanking the sleeve out of my chain and it cost me 2nd place. Oh, and Olympic triathlete, Hunter Kemper, was there!
9.9.17
Rhoades McKee Reeds Lake Triathlon (East Grand Rapids, MI)- Olympic distance
1st Place Overall
Finish Time- 2:00:27
This was a cold race (43 at start time). I was one of the first out of the water, but there are 4 laps on the bike, so it was hard to tell what place I was in. When I got off the bike, I was told someone was 3 minutes ahead of me. I was honestly kind of shocked because I was having a good race and I hadn't even seen the other guy. I just kind of coasted to the finish. It turns out that he missed a lap somewhere and I was still able to get the win. Woo hoo!
9.10.17
Come Clean Duathlon (East Lansing, MI)- Sprint distance
1st Place Overall
Finish Time- 0:57:01
The day after Reed's Lake so I was a little sore and tired. Alec Womboldt and I took out the first run. He led the way most of the time and I was working quite a bit harder than I wanted. I was in first heading onto the bike, but didn't look to see if anyone was close to me. Once I hit the turnaround, I could see how far behind everyone was and ohmygosh, there was a guy RIGHT behind me. I picked up the pace and he still passed me like I was standing still! He crushed the bike and I literally said, "Wow!" out loud when he passed me he was moving so fast. I missed a turn on the way back so I made it even harder for myself.
I came off the bike and started asking people how far back I was or how far ahead the other guy was. Literally nobody was answering me. I thought I was having a stroke because maybe my words were sounding jumbled or something. Jeez. Finally, someone answered me and said he was about one minute ahead. Dang. I was pushing hard to try and catch him, buckled down, and got to work. Finally, I got him in my sights at just over 1.6 miles in and knew I had to catch him. I didn't want to save it for a sprint finish. He was still 30-40 seconds ahead so I picked up the pace even more. I was holding a solid 5:00 pace for about half a mile to reel him in (with over 1/4 mile at sub-5 pace. Ouch!) That was a lot harder than I wanted to work (partly my fault because of missing the turn on the bike), but I got the job done.
9.16.17
Allendale Countryside Greenhouse Triathlon
1st Place Overall
Finish Time- 1:03:48
Wow! This is probably one of the best races I've ever had. The swim was only 500y so I wanted to go as hard as possible. I came out of the water in 2nd, just 15 seconds behind Eric which is pretty great for me.
I passed Eric just out of T1 and pushed really REALLY hard on the bike. I just wanted to keep a lead as long as possible. The longer the ride went on, the more I kept expecting Ryan Giuliano to ride up on me. At every turn, I took a peek behind me and expected to see him. Thankfully, I never did. After the race, I talked to him about it and he said he never even saw me. He actually thought something happened to me because he didn't see me out there. That's pretty awesome because I know what a strong cyclist he is!
Once I started to run out of T2, my left calf started to cramp up. I wasn't surprised because of how hard I had pushed on the bike, though. As I was starting the run, I kept looking behind me to see if Ryan was there. After a quarter mile, I still didn't see him and just tried to gather myself because I was still on the verge of cramping. Ryan was less than one minute behind me and closing fast.
I was able to hold him off and cross the finish line #1 for my 3rd win in 3 races! Not a bad way to end the tri season and even cooler that I did it beating Ryan. I've looked up to him (and his wife, Jacqui, who won the women's race today) ever since I met him ~4 years ago. Not only is he super fast, but he's just an all-around great guy. And he and Jacqui are the definition of couple goals!
Also, the owner of the Countryside Greenhouse, Dale, was awesome. That was probably the best transition area that I've ever had and he was a rockstar. Out on the course giving encouragement (and splits!) and allowing me to shoot a promo for EMJ in the pond after the race. Do this race!
9.30.17
2017 USATF Half-Marathon Trail Championship (Hayward, WI)
6th Place Overall
2nd Place 25-29 Age Group
Finish Time- 1:16:17
Dad and I went to Hayward, WI for the USATF Half Marathon Trail National Championship. I've never run a trail race let alone a half-marathon and a national championship at that!
I started off conservatively because I knew I wouldn't be able to stay with the lead dogs. There were actually quite a few people on the course which was nice. I kept talking to people and joking with them about the hills and "are we there yet" :P I actually got kind of lost one time on the single track trail because the leaves were so thick on the ground that I couldn't tell where the path was.
I was sitting in 6th place the entire race. It wasn't until about 2 miles left that I looked over my shoulder and saw someone right there. I did a double-take because nobody had been close to me the entire time. I couldn't tell if he was in my race or one of the other races (they had 100k, marathon, and 5k races going on at the same time and all crossing over at points on the same course), but I wasn't going to let him pass me regardless of what race he was running. I was able to hold him off and crossed the finish line with a flying kick for 6th place overall and 2nd in the 18-29 age group. I was really hoping to win another age group national championship, but when you're going against Hayden Hawkes, it's kind of tough. Although, he only beat me by about 2 minutes which is pretty good because I never really felt like I was overreaching or pushing that hard and this was my first trail race!
I also made some fast friends at this race: Ashley Brasovan and Sam Doner who finished 1st and 6th on the women's side. Freaky fast!
10.15.17
Grand Rapids Half-Marathon (Grand Rapids, MI)
1st Place Overall
Finish Time- 1:13:29
*Half-marathon PR
Spoilers: I won!
It was perfect weather up until about 3 minutes before the race started. And then the heavens opened up and it started pouring! Mile 1 clicked off in 5:23 and I thought, "Yikes! That's way too fast. But I feel good so I'm just going to keep going." The lead gator pulled up alongside the leaders and asked me my name was and where I lived...mid-race and mid-pouring rain! It was kind of funny.
I looked behind me at the turn near mile 4 and did a double-take because there was nobody even close to me. I was taken pretty off-guard by that. So, for the next 9 miles, I was running alone (with the accompaniment of the lead cyclists, though). The only eventful thing that happened the rest of the race was around mile 9.5, there was a tree down across the trail that the lead cyclists were trying to move before I got there. They weren't fast enough so I had to slow down and just kind of stepped around them and over the tree. Other than that, I just got to splash around in puddles all morning long :)
I even had time to stop and hug mom as I was making my way toward the finish chute :P I managed to feel comfortable throughout the race and didn't feel like I was pushing beyond my limits. I missed my sub-1:13 goal, but the weather definitely wasn't conducive to running fast. And this was the first time I won a half-marathon which was pretty cool!
Missed race
I was planning to end my season with a Turkey Trot on Thanksgiving, but I've had some pretty severe pain in my hip. I've actually had this hip pain since the beginning of May, but kept pushing through it. Well, the week before Thanksgiving, I could hardly even walk let alone run. I got an MRI and it turns out that I've got a partially torn labrum.
This really hampered my training in the last 2 months of the year and I haven't been able to run much more than 5 miles since mid-November. No bueno. Since getting the injection, it has felt better, though. It's not 100% (and I am very out of shape), but I'm glad it's the off-season and I have time to get back there.
This season would not have been possible without several people so some thanks are in order. Especially Team Todd (my family and Coach Barb) for their unwavering support, my Every Man Jack teammates for the motivation to be as awesome as they are, and you all for following along in 2017.
Here's to a happy and healthy 2018!